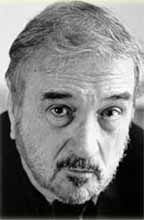 Renowned film writer Jean-Claude
Carrière
's approach to continuing the adventures of Mary
Shelley
's immortal
Frankenstein Monster
character was startingly different from both the Universal and Hammer versions.

In six novels written in 1957 and 1958 for "
Angoisse
", the horror imprint of French publisher,
Fleuve Noir
,
Carrière
followed the footsteps of the Monster, christened
"Gouroull"
, as he made his way back from Iceland, to Scotland, and then Germany and Switzerland, from the late 1800s to the 1920s.

Unlike its predecessors,
Carrière
's Monster is a ruthless, demoniacal thing, the very incarnation of evil. His yellow, unblinking eyes hide a cunning, inhuman intelligence. The Monster barely speaks, but uses his razor-sharp teeth to slit his victims' throats.
Carrière
emphasizes the physical inhumanity of the creature: the Monster does not breathe, its skin is white as chalk but strangely impervious to flames, its strength and speed are prodigious, what runs in is veins is not blood, and it has no normal heartbeat; even its thought process is shown to be alien.

The plots have the Monster pursuing his own, evil agenda, generally unafraid of the weaker humanity, and woe to anyone standing in his way. Even people who try to help or reason with him are just as likely to be killed by the inhuman fiend.
In 1972, French comics publisher
Aredit
(which also published translations of DC and Marvel material, as well as "
Atomos
" and "
Meteor
") devoted seven issues of its digest-sized "
Hallucinations
" horror comic magazine to adapt
Carrière
's
Frankenstein
novels.